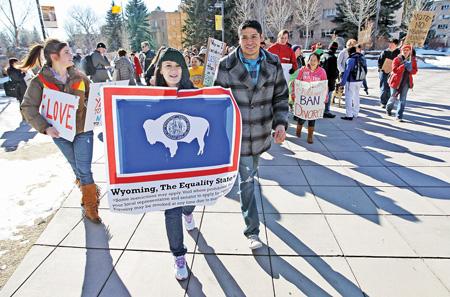 Protests over Wyoming's new bill that would ban gay marriages performed elsewhere popped up all over the state this weekend. Dozens of students marched on the campus of the University of Wyoming on Friday protesting the bill, refered to as HB 74, some carrying signs emblazoned with the state's flag and slogan, "The Equality State." The students also protested another bill that would make it a crime for immigrants to not carry an alien registration documents.
 Meanwhile, Trib.com reports on a rally in Casper on Saturday: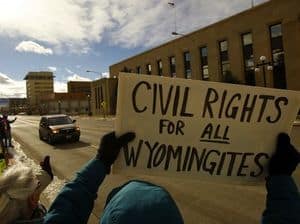 Participants held signs that said "Civil rights for Wyomingites" and "Protect our people like we protect guns" and waved to passersby on Center Street. They said most of the reaction was positive. Many people oppose the bill, and the state Legislature doesn't reflect the community, said Pamela Kandt, who unsuccessfully ran for the state House in 2010. "All the social conservatives ran on a platform of no more government intrusion," Kandt said. "They're not consistent with the philosophy that got them elected. We just need to not mess with the laws until the Supreme Court deals with it." Leah Janssen, of Casper, agreed that state lawmakers supporting this bill increase government intrusion into people's lives. She attended the rally because "silence is acceptance."
On Friday, a Senate Judiciary Committee passed a proposed constitutional amendment banning gay marriage.
Trib.com goes on to report that "if HB74 passes the House on its third reading Monday, it will be debated in the Senate." Wyomingites are encouraged to call and e-mail their representatives this weekend.