The decision by Budapest, Hungary police to withdraw permission for a Gay Pride march based on a request for an extended parade route that would take the march in front of parliament has been overturned by the Budapest Metropolitan Court.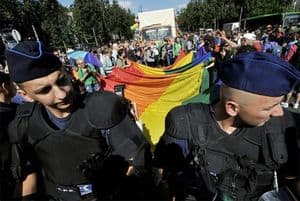 AFP reported: "The extension would have taken the march in front of parliament, where marchers planned to protest against Hungary's controversial media law and the upcoming new constitution, both perceived as detrimental to the cause of gay rights, Steigler said.The Rainbow Mission eventually modified its request so that the march would have stopped short of the square, as proposed by police. But by Friday, permission for the entire march had been withdrawn, citing a disproportionate disruption to traffic, Steigler said."
Organizers suspected the rejection was politically motivated.
Human Rights Watch applauded the court's decision:
"The Budapest Metropolitan Court's decision on February 18, 2011, to allow an extended route for a gay pride march was an important victory for freedom of assembly in Hungary, Human Rights Watch said today… 'The court's decision was a victory not only for the  community of lesbians, gays, bisexual and transgender people, but for the right of all Hungarians to freedom of assembly,' said Boris Dittrich, acting director of the lesbian, gay, bisexual and transgender rights program at Human Rights Watch."
The march is scheduled for June 17.