Concerned over the growing likelihood that the state senate will pass marriage equality, the Republican Party's state chair Alex Mooney (pictured) has sent out a desperate email urging party members to lobby senators to vote against it, the Washington Post reports: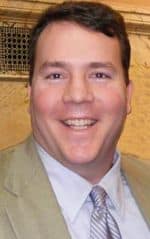 All nine senators listed in Mooney's email are Democrats. Absent from the list is Sen. Allan H. Kittleman (R-Howard), the only Republican in the chamber who has voiced support for the legislation.
Of the nine senators, six have publicly voiced support for the bill. Another — Sen. Joan Carter Conway (D-Baltimore) — has said she is willing to be the deciding vote in favor of the bill but will not vote for the bill if she believes it will fail.
The only senator on the list who has said nothing publicly about his intentions is Sen. John C. Astle (D-Anne Arundel). The email also targets Senate President Thomas V. Mike Miller Jr. (D-Calvert), who has said he will vote against the legislation.
Says Mooney's email: "Dear Fellow Republican, Help us take a stand in defense of traditional marriage. A few key state Senators will soon decide whether or not the Maryland Senate will change the law to redefine marriage. Our state's long standing tradition of promoting marriage as between one man and one woman will be drastically altered to legally define marriage as between two men or two women."