Authorites have withdrawn their permission for a Gay Pride march in Budapest, Hungary. Organizers claim the rejection of their application is politically motivated.
AFP reports: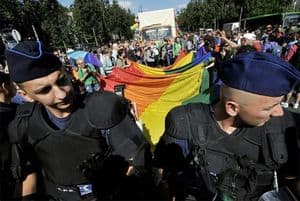 Last week, the organisers of the march applied for an extension to their usual downtown route, which police had earlier accepted.
The extension would have taken the march in front of parliament, where marchers planned to protest against Hungary's controversial media law and the upcoming new constitution, both perceived as detrimental to the cause of gay rights, Steigler said.
The Rainbow Mission eventually modified its request so that the march would have stopped short of the square, as proposed by police.
But by Friday, permission for the entire march had been withdrawn, citing a disproportionate disruption to traffic, Steigler said.
"We suspect that the decision was politically motivated… a lot of things have happened in politics since the last march," he commented.
Budapest Pride has been threatened last year and the year before by right-wing nationalists, but has been spared violence both years by a massive security detail.