Check out the full gallery HERE.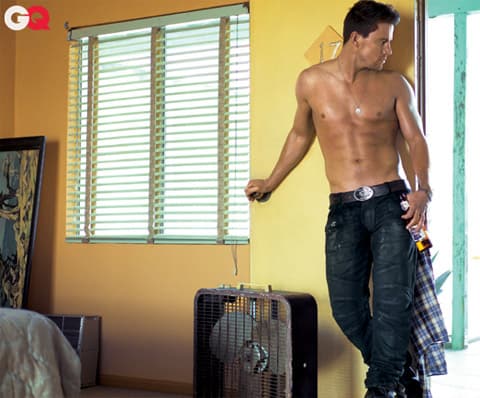 Channing Tatum strips down for a new spread in GQ.
Two more shots, AFTER THE JUMP…
While the GQ cover story is not up yet, Tatum recently discussed the homoeroticism in his new film, The Eagle, and the master/slave relationship between Tatum and his costar Jamie Bell with The Vulture:
"I think there's love in any relationship, whether it's between a man and a woman, an animal and a person. Look, you have a need to be understood, humans gather around each other and they need to help each other through things. Jamie's character and my character through trial by fire had to figure out how to understand each other. So I guess you could call it a bromance."
Tatum continues on that thread:
How about in real life?
Jamie and I have a bromance. We've been having sex for a few years now.
How's that going?
Going fantastic.
He's a lot smaller than you. He's really small.
He's a goer though.
What's a goer?
I don't know. I just made it up.
Two more GQ shots by Nathaniel Goldberg, AFTER THE JUMP…
Also, if you missed Nathaniel Rogers' review of the film, you can read it here.