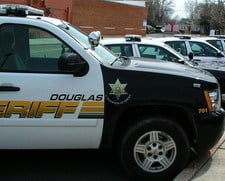 A Lieutenant Sheriff from Douglas County, Colorado, resigned yesterday after his superiors began an investigation into homophobic and racist comments he posted on a variety of local news sites.
On the subject of Don't Ask, Don't Tell's repeal, Lt. Jeff Egnor wrote, "New miltary [sic] slogans: The few, the queer, the Marines! Butt Rangers lead the way! Be as gay as you can be! Aim for a high hard one, Air Force! Join the Navy, see naked men!"
He also proposed a new weapon for war, "the sissy slap," and declared, "I hear the Army is forming a new division: The Rump Rangers!" Egnor concluded that lovely line with a smiley face, the charmer.
Check out more, AFTER THE JUMP…
Egnor, who was on the force for 13 years, also offered his disturbing take on illegal immigration — "I have an immigration policy: 12 gauge shotgun! — and on the possibility that Denver Nuggets player Carmelo Anthony was leaving the team, "Send him back to the hood in New York or Jersey. Good riddance."
The lieutenant's superior, Undersheriff Tony Spurlock, described the messages as "very shocking and inappropriate racial comments, homophobic comments," and insisted that his staff knows that improper activities have consequences:
Our message is while you're here we want you to do your job and serve the community the very best that you can. If you have concerns politically, what happens in the world, you have to do it in an appropriate way and not relate it to this county sheriff's office.
Spurlock also said that Egnor "resigned in the middle of the investigation," because "he was ashamed of what he had been doing while he was on duty." And what about when he's off duty, would Egnor think that's okay?