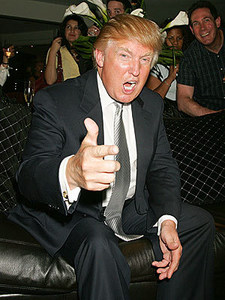 Michele Bachmann, Newt Gingrich and other Republican politicians will get plenty of headlines out of this weekend's CPAC gathering in DC, but few speakers are as buzzed about as Donald Trump, who surprised attendees by announcing that he'll deliver a speech this afternoon.
Trump's appearance comes months after the real estate tycoon began hinting at a potential presidential run, and was apparently organized by none other than gay conservative group GOProud.
"Mr. Trump is somebody whose voice is heard all around the world," explained Christopher Barron, chairman of the controversial organization's board.
"He's not only a well respected businessman, and somebody who obviously has a giant megaphone, and having him involved in this event and talking about those issues – issues that are not only important to GOProud but important to conservatives all across this country — is critical."
Not only are GOProud's leaders claiming responsibility for Trump's presence at the conference, they're also trying to spark a write-in campaign for CPAC's presidential straw poll. Barron says he "would love to see Mr. Trump run for president."
Read more, AFTER THE JUMP…
This makes me wonder, what exactly are Trump's politics on things like LGBT equality? In 2009, when Miss California Carrie Prejean came under fire for saying she thought marriage should be between a man and a woman, Trump defended her by pointing out, quite rightly, that her answer mirrors those given by President Obama.
One of Trump's estates also hosted an event for anti-gay Libyan dictator Muammar al-Gaddafi.
Meanwhile, in other CPAC news: Bachmann offered plenty of saber-rattling about Obamacare being "socialist," calling out China control of U.S. debt and how conservatives need to unite to make him a one-term president, while Gingrich used his time to advocate for the end of the Environmental Protection Agency, which would be replaced by an "environmental solutions agency," and criticize Obama on national security: "The Obama administration is wrong on terrorism, wrong on Iran, wrong on Hezbollah, wrong on the Muslim Brotherhood."
Neither addressed abortion, gay rights or other issues that have for so long defined this conservative get-together.