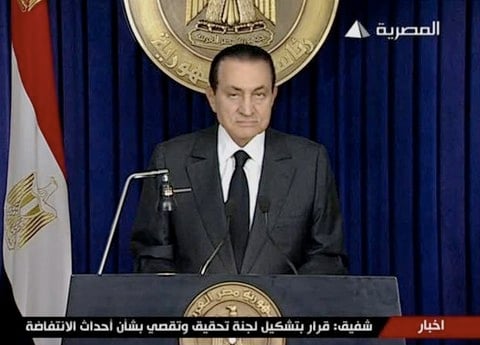 Egyptian President Hosni Mubarak said today that he will not step down from the office he's held for 30 years.
Despite growing outrage on the ground in Egypt, and rumors today that the military may take power from the long-serving leader, Mubarak contended that his presence remains essential for a "stable transition."
Specifically addressing the youth of Egypt who packed into Cairo's Tahrir Square and around the nation, Mubarak said that he would transfer an unspecified amount of his power to freshly appointed Vice President Omar Suleiman, instead of giving up his seat all together, as protesters demanded.
Though Mubarak recognized appeals for his ouster as "legitimate and right," and insisted he was "proud" of the youthful protesters, he also maintained that he had an "irrevocable commitment" to upholding his office and made clear that he would not follow "dictates coming from abroad."
Read more about Mubarak's speech, AFTER THE JUMP…
Mubarak went on to allude to some vague commissions that would help the transition ahead of September's elections, as well as to constitutional alterations to lift the national emergency, although gave no time line.
He went on to say that his remaining in power was essential to help Egypt "recover" a collective trust and foster "national dialogue as groups, not enemies."
Mubarak went to great lengths to express the "pain" he felt from criticism coming within Egypt's borders and to deflect the unrest away from himself: "This situation is not about me, but about Egypt," he claimed, as the crowd began chanting "Go, go, go."
Egypt's protests have already gone on for over two weeks, and it's unlikely Mubarak's so-called concessions will alleviate pressure on him to leave.