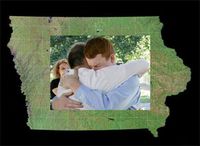 Following last night's public hearing on House Joint Resolution 6 to ban same-sex marriage, the Iowa House has begun debate on the issue.
It's being broadcast live at the House website.
The debate began five hours earlier than scheduled: "The change was made by Republican leadership, who said an impending winter storm set to hit the Midwest was the motivating factor."
Good As You has posted some archived audio.