Hi folks, just wanted to let you know about some changes going on here at the site. As you know, Tuesdays are the day our music post usually goes up.
While today's post (going up later this afternoon) will look very much the same to you, I'm very excited to introduce its new author, Norman Brannon.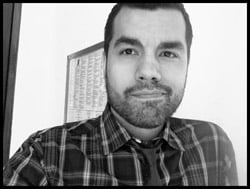 Norman is a musician and writer with almost 20 years of experience in music and journalism. Following the success of Anti-Matter — an independent music magazine he founded in 1993 — Brannon went on to become a contributing writer for Alternative Press, VIBE, Soma, and the groundbreaking irreverent hip-hop upstart Ego Trip. As a member of Texas is the Reason and New End Original, he steered a successful recording career throughout much of the '90s, seeing his work licensed for use by Mercedes-Benz, Coca-Cola, and Activision, among others. Most recently, he served as a founding contributor for the launch of MySpace's Music initiative and cut his teeth in television as the host of Here! Network's The Deal. In 2008, Brannon issued his first book, The Anti-Matter Anthology: A 1990s Post-Punk & Hardcore Reader. He currently lives in Brooklyn, New York, and blogs at nervousacid.org.
I've followed Norman's blog for quite some time and couldn't be happier that he'll be contributing here.
I'd like to thank Modern Tonic for the many months they were at the helm of the music column. Their site is currently undergoing a re-design for launch this Spring.
So, we'd actually like to hear what you would like to see more of in the weekly music column – mp3s, reviews, videos, or something else?
Another note of housekeeping: I'd like to thank everyone who has so far responded to our first Big Gay Deal for Towleroad T-shirts. We've had hundreds of responses and hope to have some more deals for you on other products, services, and entertainment very soon.