Dior designer John Galliano has filed a defamation lawsuit against a couple he was accused of attacking in Paris earlier this week. Following the attack, which media reported was anti-Semitic, Dior suspended the designer.
WSJ: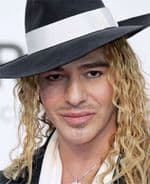 According to Paris police, Mr. Galliano was taken in for questioning on Thursday after a fracas erupted outside La Perle, in Paris's hip third arrondissement.
The British designer, who had consumed alcohol, was questioned for alleged violent behavior and making alleged anti-Semitic remarks to two people during an argument, an official said. Mr. Galliano was released after the questioning; the names of the two people weren't disclosed.
French newspaper "Le Figaro" reported today that Mr. Galliano provided three written statements from witnesses who denied that the designer made any anti-Semitic insults.
Dior's fashion show is scheduled for Friday.  It is unclear whether Mr. Galliano will take his catwalk bow.
Eyewitness and media accounts of the attack differed greatly.