The Academy dissed Cher's Burlesque track "You Haven't Seen the Last of Me Yet" for an Oscar nod, a fact that earlier this month led writer Bruce Vilanch to say that a planned gag involving James Franco in drag as Cher would be cut from the telecast.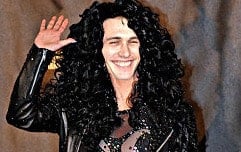 This may be a blessing for everyone involved, given the cover of the song that Franco tweeted last night.
Said Franco: "they pulled this from the oscar show. damn it."
Listen to as much as you can before your ears bleed, AFTER THE JUMP…
(image vulture)