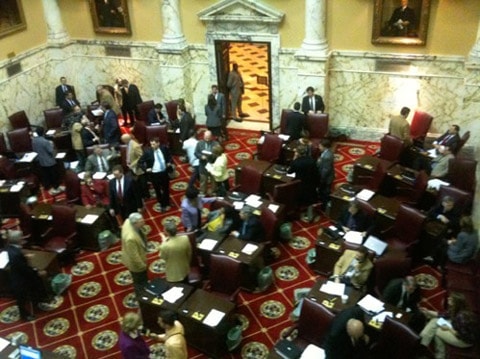 (image @equalitymd)
The Maryland Senate passed the marriage equality bill this evening by a vote of 25-21. The bill now moves on to the House.
Discussion in the House of Delegates is set to begin Friday, with a committee hearing that could be far more rancorous than anything the Senate has seen.
Del. Don Dwyer, an Anne Arundel County Republican and a chief opponent of the legislation, promised this week to "take off the gloves" when he discusses gay marriage. His bill to outlaw recognition of any union not between a man and a woman, also is slated to be heard Friday.
"The Senate has been congenial. The House is going to be a lot more volatile," predicted Del. Keiffer Mitchell, a Baltimore Democrat and sponsor of the legislation. "There are more personalities in the mix. I'm concerned about the tone."
The Sun says its passage is far from assured: "The same-sex marriage bill in that chamber has 58 sponsors; 71 votes are needed for passage. And, if it is passed, it will almost certainly be petitioned to referendum, giving voters the final say."
Governor Martin O'Malley has promised to sign a marriage equality bill if it arrives at his desk.
Audio (via good as you) of the vote, AFTER THE JUMP…