During all the DOMA excitement today, the marriage equality bill under consideration in the Maryland senate made it through a first vote: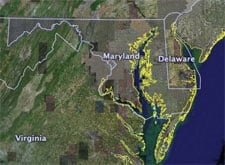 Maryland's Senate voted 25-22 in favor of allowing same-sex couples to marry after a fairly short and focused debate. The bill has not yet cleared the body, but the vote is a positive sign for supporters of the legislation.
The bill was also slightly amended:
The bill was amended so that religious organizations – like the Knights of Columbus – would not have to provide insurance to same-sex couples. Bill sponsors supported the change. The only unfriendly change adopted was Sen. Anthony Muse's suggestion to name the bill the "Civil Marriage Protection Act." It was introduced as the "Religious Freedom and Civil Marriage Protection Act.
Final passage of the bill could come as soon as tomorrow.