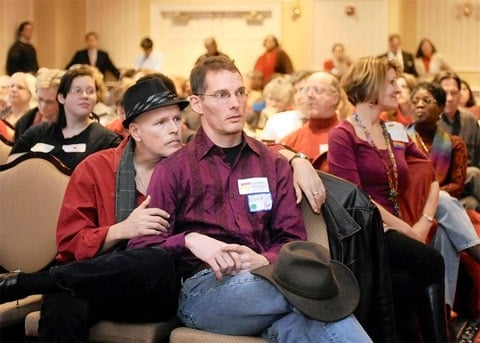 (image baltimore sun)
The Maryland Senate Judicial Proceedings Committee heard more than six hours of testimony yesterday on efforts to legalize same-sex marriage in the state.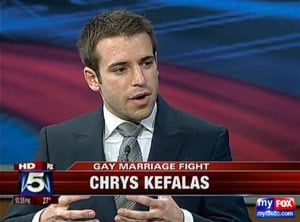 In all, about 140 witnesses signed up to testify on the highest-profile social issue facing the Maryland General Assembly this year. The committee hearing spanned more than seven hours.
Before the proceedings, Senate President Thomas V. Mike Miller Jr. (D-Calvert) put the chance of passing a same-sex marriage bill by his chamber at 60 to 70 percent, saying a vote could come next week.
If the bill clears the Senate, then the House of Delegates, typically the more liberal chamber on social issues, would take up the issue, deciding whether Maryland should join the District and five states that allow same-sex marriage.
Yusef Najafi has an excellent report at MetroWeekly:
At the hearing, which began about 1 p.m. and lasted into the evening, Senate president Thomas Miller (D-Calvert, Prince George's) spoke with optimism about the bill's chances for success. Miller declared then that he predicts about a 70 percent chance that the bill will pass the Senate's chambers, adding that a Senate vote is expected next week. The Senate's Clerk Office reported that votes on such matters usually occur on Wednesdays, which would be Feb. 16.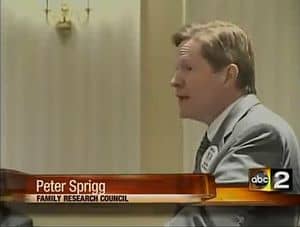 A minority opposing same-sex marriage also stood up to be heard:
But many of the 150 people signed up to testify during the hearing, which lasted about six hours, did not agree with Foringer's testimony. They opposed the measure that would grant same-sex marriage rights in Maryland, citing religious scripture and the family unit. Some described the measure as an ''attack'' on the sanctity of marriage, and others like National Organization for Marriage board chair and former president Maggie Gallagher testified about what she said SB 116 would do to the ''public understanding of marriage.''
''The reason that marriage is a virtually universal human social institution that reoccurs again and again in different cultures, and different religious backgrounds, is that humanity recognizes that we need a special institution to bring together a male and female to make and raise the next generation,'' Gallagher said.
Some of Gallagher's testimony here.
Watch MYFOX DC's interview with some of the participants (including Chrys Kefalas, above) and ABC News report on the hearing featuring clips of testimony, AFTER THE JUMP…
Here's the ABC News report: