The Washington Post reports that a vote on Maryland's marriage equality bill in the House of Delegates could come to a vote by the end of next week. The bill passed the Maryland senate earlier this week.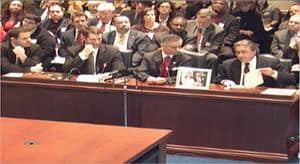 The Washington Blade has a report on yesterday's lengthy hearing, and concerns that passage of the bill will fall short:
"There's an effort to derail this bill like none I've seen before," said gay State Sen. Richard Madaleno (D-Montgomery County), the author and one of the lead sponsors of the marriage equality bill in the Senate.
In a telephone news briefing on Friday, Madaleno said the mainstream media have repeatedly reported an earlier assumption that support for the bill was greater in the House than in the Senate, and approval of the measure in the Senate guaranteed its passage in the House.
With opponents, including the Maryland Catholic Conference and the New Jersey-based National Organization for Marriage, applying enormous pressure on wavering delegates, Madaleno and Equality Maryland officials said support in the House might be in jeopardy.
It is now more important than ever for Marylanders to call their lawmakers, urging them to vote yes on the marriage equality legislation now pending. Equality Maryland has information on how to do that HERE.
Meanwhile, anti-gay Maryland Delegate Don Dwyer has been distributing disgusting material from designated hate group MassResistance connecting same-sex marriage to children in public schools.
Jeremy Hooper at Good As You has a post up on what we can expect should marriage equality be passed in the state: "First, 'Protect Marriage Maryland' head Robert Broadus will fault the pro-equality side for being motivated, diverse early birds who are able to organize their peeps. Then he'll say all kinds of other stuff about his personal faith, our public policy, and bisexuals who innately want to marry multiple people."
Watch some of the testimony from yesterday's hearings, AFTER THE JUMP…