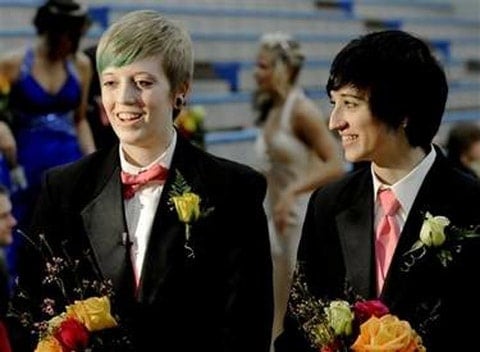 Sarah Lindstrom and Desiree Shelton were greeted with cheers as they entered the Champlin High School assembly as part of the school's Royal Court for its annual Snow Days Pep Fest.
Students voted onto the royalty court traditionally enter the assembly in boy-girl pairs. After Lindstrom and Shelton, both 18, were elected, school officials last week announced a change in procedure: court members would walk in individually or accompanied by a parent or favorite teacher.
School officials said they merely wanted to prevent the two from being teased. But on Friday, two human rights groups sued on their behalf.
On Saturday, in federally mediated talks, school officials relented. The two sides agreed that members of the royalty court would be escorted by anyone meaningful to them, regardless of gender or age.
"This is a new chapter for the district," said Sam Wolfe, a lawyer with the Southern Poverty Law Center, which filed the lawsuit along with the National Center for Lesbian Rights and local assistance from the Minneapolis law firm of Faegre and Benson.
Champlin is part of the Anoka-Hennepin School District which has been in the spotlight recently for incidents involving its gay and lesbian students. In 2009, two Anoka-Hennepin School District teachers were ordered to go on leave after harrassing a gay teenager.
And Anoka-Hennepin has seen six students take their lives over the past year and a half, one of them being Justin Aaberg. The school district came under fire after completing an "investigation" into teenage bullying and concluding that bullying was not responsible for any of the suicides in their district.