The casting works marvels: Dolan and Chokri, who are friends in real life, conjure deeply specific codependent-friends-who-irritate-each-other chemistry; Schneider plays Nico just blankly enough that it's easy to understand (or at least forgive) the mutual confusions. It's almost as if his golden curls absorb all fantasies and projections. To steal a phrase from Mean Girls… 'That's why his hair is so big. It's full of secrets!'
Some of their fantasies are visualized. At one point while Francis is eating his feelings, he imagines Nico serene under a shower of marshmallows. Viewers may that Dolan tricks up his movie too much: there are fantasy segments, color coded sex scenes, and a fondness for slo-mo that might even embarrass Wong Kar Wai. Even if Dolan's personal voice as a filmmaker is still forming (he's only 21) or a bit muffled by his inebriated declarations of love for the cinema, there's little doubt that he's gifted. One long slo-mo segment paired with the theatrically mournful pop classic "Bang Bang" features Marie and Francis over-primping, over-dressing, and tragically over-hoping for Nico's birthday party. Just as the slo-mo walking and fetishized color risks grating on your last nerve, Marie and Francis enter the party. Their song vanishes forced out by the party's own idea of a soundtrack: "Jump Around". This jarring transition from their drama queen headspace to the drunken messy reality of a party (delightfully bitchy) is both moving and funny if you're letting the movie's moods and observations about human behavior sink in. If you are, you can feign indifference all you want, but you'll fall. Bang Bang. The movie shoots you down.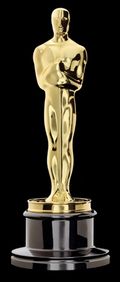 BONUS SCENE
Hey, it's OSCAR WEEKEND. What do you have planned for the big night? There are a lot of sites that cover every detail leading up to and after the big night so if you want to gorge on Oscar prognostication and commentary check out Awards Daily, Movie|Line, In Contention, Gold Derby, The Film Experience (that's mine. plug plug), The Carpetbagger and the like. Most pundits are betting on The King's Speech to take at least a handful of statues with The Social Network, Inception, and The Fighter getting scraps from The King's Table. You can see my full predictions here, as well as silly trivia and "how'd they get nominated" for each category.
Did you know?
If Annette Bening pulls off the upset beating Natalie Portman, she'll only be the second woman in her fifties to ever win Best Actress? (The only 50-something winner for Best Actress is Shirley Booth in Come Back Little Sheba. They like their ladies young.)
If The King's Speech wins Best Picture it'll be the first film about a British monarch to win. (Royalty Porn as we like to call it — which has a whole new meaning now! –is often nominated but doesn't usually win the top prize.)
If Christian Bale and Melissa Leo both win for The Fighter, it'll be only the second fictional "mother/son" double Oscar win in history after Brenda Fricker and Daniel Day-Lewis in My Left Foot (1989)