New Hampshire's legislature will hold hearings this Thursday on two bills to repeal marriage equality in the state, the AP reports: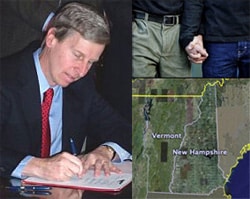 House Republican Leader D.J. Bettencourt has said he will ask the Judiciary Committee to keep the bills until next year, but hearings must be held this year under House rules. The committee is expecting a large crowd and has reserved the House chamber for the hearings.
Democratic Gov. John Lynch has said he will veto a repeal bill if it reaches his desk. Republicans hold supermajorities in both the House and Senate which would be enough to override a veto if the GOP caucus was united in repealing gay marriage.
A WMUR poll released last week revealed that most New Hampshire residents are against repeal:
Results from a WMUR Granite State Poll showed 62 percent of survey respondents opposed repeal of the 2009 law that legalized same-sex marriage in New Hampshire.
Conservative groups have since vowed to attempt to repeal the same-sex marriage law.
In the poll, however, more than half of the respondents, 51 percent, said they "strongly oppose" repeal, against 24 percent who strongly supported such a move.
"Strong opponents of repealing same-sex marriage outnumber strong proponents by a factor of two to one," said Andrew Smith, director of the University of New Hampshire Survey Center, which interviewed 520 New Hampshire adults for the poll.