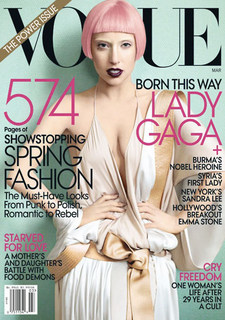 Grover Norquist, a CPAC organizer and GOProud board member, described protesters of the right wing gathering's gay inclusion as "loser people:" "Loser people and loser organizations that haven't done any work all year try to get headlines so they can whine about CPAC. They can get a little press. That happens all the time."

The American Family Association plays hide-and-seek with Bryan Fischer's comments claiming Native Americans aren't morally righteous enough to own land. Has the anti-gay activist finally alienated everyone, including his friends?

Two "gay" spider monkeys named Elton and David (cheeky) will get a special Valentine's Day treat: nuts and fruit. Sounds pretty good.

Lady Gaga has the "power" on the cover of Vogue.

Gay rights activists in Iowa delivered 3,248 signatures calling on House Speaker Kraig Paulsen to support state Supreme Court Justices targeted for their support of marriage equality.

Does the new Frank Gehry-designed skyscraper at New York City's 8 Spruce Street represent an architectural shift into the digital era, or just give us something pretty to admire?

Tim Pawlenty, the former Minnesota governor who's considering a presidential run, told CPAC attendees today that fighting gay marriage is based on "universal values," not some "mythical idea." This is based, of course, on his belief that all other religions other than his own are simple fantasy.

Following public protest, the Israeli government decided to hold off on deporting the German lover of an Israel citizen killed during an attack on a gay community center in Tel Aviv. This is not, mind you, a guarantee the German, Thomas Schmidt, will get to stay. Immigration officials are just investigating more.

Terry Jones, the pastor who tried to organize a Koran burning on 9/11, has announced a national tour to combat the greatest threats to the nation: abortion, gay rights and Islam. All three, he contends, lead to death, destruction and utter carnage. Why anyone would want to hear such a bummer of a speech is beyond me.

Scientology has a lot of friends in Washington.

Broadway will never be the same after Kathy Griffin performs Kathy Griffin Wants a Tony.

Go, Canada! House of Commons passes transgender rights bill.

Anne Hathaway and James Franco star in a new promo for the Academy Awards. I'm all pins and needles!

Republican Sen. Jon Kyl of Arizona announced today that he will step down once he's finished his term in 2012. Kyl's departure, hot on the heels of Virginia Sen. Jim Webb, has GOP insiders in D.C. wondering who will fill their void.