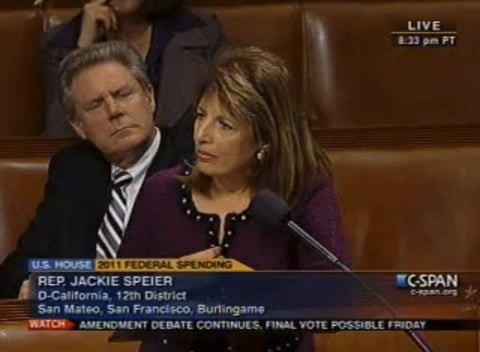 Rep. Jackie Speier (D-CA) delivered an emotional and personal rebuttal during a debate over abortion last night.
The WaPo reports: "The debate was over GOP Rep. Mike Pence's drive to defund Planned Parenthood. Speier's outburst was triggered by GOP Rep. Chris Smith, who had read aloud graphic descriptions of abortion from a book only moments before."
Said Speier: "I really planned to speak about something else. But the gentleman from New Jersey just put my stomach in knots. Because I'm one of those women he spoke about just now. I had a procedure at 17 weeks pregnant with a child who moved from the vagina into the cervix. And that procedure that you just described is a procedure that I endured. I lost a baby. And for you to stand on this floor and suggest that somehow this is a procedure that is either welcomed or done cavalierly or done without any thought, is preposterous."
Watch, AFTER THE JUMP…