Ricky Martin talks to Parade magazine about, among other things, being a gay activist: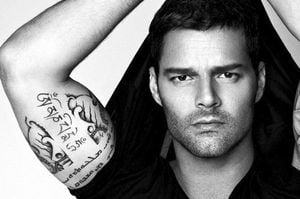 "There's no pressure from anybody. It's something I feel really good about doing. I have been an activist for human rights for many years. Today, I'm in touch with who I am and I have the opportunity to be in front of a camera and talk to millions of people. After I wrote the book and went on Oprah Winfrey, so many people have come to me, telling me, 'Ricky, thank you because I understand what acceptance is today.' 'Ricky, thank you. I feel better about myself because you have a very beautiful family and the words 'dysfunctional family' don't exist in your life.'…
…The other day, I was in a store and there was this 13-year-old child who he told me, 'Ricky, you and me, we are the same! You like boys. Well, you know what? Me too! And this is my mom and she's happy with me today.' Are you kidding me? I had to give him a hug and I had to give his mother a hug because unfortunately — because of society or faith — parents struggle. It's all about love."