Ari Ezra Waldman is a 2002 graduate of Harvard College and a 2005 graduate of Harvard Law School. After practicing in New York for five years and clerking at a federal appellate court in Washington, D.C., Ari is now on the faculty at California Western School of Law in San Diego, California. His research focuses on gay rights and the First Amendment. Ari will be writing weekly posts on law and various LGBT issues. 
Follow Ari on Twitter at @ariezrawaldman.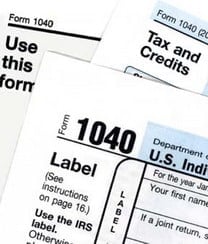 Bitter February winds have many gay men and women eyeing Memorial Day and its unofficial start to the summer — and summer share — season. But, before we set aside our overcoats and mittens, we have to file our taxes by April 18, 2011, almost exactly half way between today and Memorial Day.
This year's Tax Day is different from most previous Tax Days for two reasons: First, taxes are normally due on April 15, but the IRS extended the filing deadline to allow Washington, D.C. to observe Emancipation Day; second, domestic partners in Nevada, Washington and California (all community property states) will be able to report half their combined community income on each filing. Andy reported this back when it was first announced and many in the media heralded this as a step toward equal treatment of same-sex couples. The Wall Street Journal even went so far as to say that gay couples will now get "equal tax treament."
This is a welcome development in the long run not because gay couples are now equal in the eyes of the Tax Man — with all due respect to the Journal — but because it highlights the discrimination faced by gay couples under a federal regime dictated by the Defense of Marriage Act (DOMA). In short, some gay couples will face filing burdens, and many will likely get audited, but this IRS rule change paints a stark picture of DOMA's injustice and represents the Obama Administration's earnest attempt to recognize gay couples under a DOMA straight jacket.
Some explanations and analysis AFTER THE JUMP.
I am not an accountant, so I consulted an accounting expert for a summary of the new regulations. Even still, this post should not be construed as providing tax advice. If you feel these regulations apply to you, you should consult an accountant in your state.
Community property is a civil law construct, but it is the rule in many Western states (likely an inheritance from the days when Mexico controlled the western part of the United States), and refers to the sharing, or joint ownership, of property obtained or earned during a spousal union. You can have your own property and income not shared by your spouse (called separate property), but much of what you earn during a union belongs to both you and your spouse.
The Law School 101 way of describing community property usually involves marriage — you share what you earn while married and split it evenly upon divorce or annulment — but the IRS rule change means that you need not be married to share your community property. The federal government will now treat domestic partners in Washington, Nevada and California (and those same-sex couples legally married in California) like other unions subject to community property rules for the purpose of federal tax filing. You can read all about the details in the IRS's explanation, available here.
At a minimum, then, there is reason to accept this rule change as a positive. It recognizes the existence of gay couples for the purposes of some part of federal taxes, and while it may impose some burdens on gay couples, perhaps we should take the long view for what this means as precedent for the future.
I can identify at least seven consequences for the gay community. Let's discuss each, but please use the comment section to add perspectives or thoughts you think I might have missed.
1. This does not treat gay couples like opposite-sex married couples. Community property laws are quite archane. You are required to determine the difference between community and separate property, determine deductions based on which is which, and have to file a few separate returns. Most importantly, married couples get to avoid all that by filing jointly, which domestic partners and same-sex married couples still cannot do. Plus, gay couples who are legally married in California are subject to these rules, not the rules for married couples filing federal returns.
2. This rule change may result in lower taxes for domestic partners and California married couples. Then again, it may not. It may be frustrating to hear a lawyer say, "It depends," when you ask a simple question like, "Will this lower my tax burden?" But, in this case, it is true. A lower tax burden is possible based on simple math: If you split your community income/property across two returns, you may be tossed into a lower tax bracket. But, if one partner with a lower income used to file as "head of household" and qualified for the Earned Income Tax Credit, he or she may no longer qualify if the split of community property/income bumps up the income level filed.
3. This does not recognize same-sex couples married in California as any different than domestic partners in other community property states. These rules apply to same-sex couples legally married in California because even though their marriages are legal, the Defense of Marriage Act (and attendant IRS regulations) prohibit these couples from filing jointly as married couples. Therefore, gay couples married in California are no different than gay couples in registered domestic partnerships.
4. No electronic filing and more audits. I disagree with my accountant on this one, but it appears to me that gay couples in registered domestic partnerships and those gay couples married in California will not be able to e-file and will likely face more audits as a result of this rule change. Community property rules require you to split your income, but your individual withholding amount will refer back to your own income (community and separate). So, the numbers simply will not match. And, when the numbers don't match, the Tax Man comes calling for an audit. An audit is simply a way for you to explain your return in more detail. If you file properly, you will come out of the audit unscathed, but audits take time, cost money and cause stress.
5. More work for the accountant (and more cost to you). In California, same-sex married couples and registered domestic partners have to file a joint state return and two separate federal returns. That's three returns. Some accountants will not charge you for the extra work because they understand that you are no different than a married couple. Other accountants may not be so generous or accommodating. If you can, drop them. Every large city in California, for example, has its version of an Equality Directory, with advertisements for gay-owned or gay-friendly professional services, including accountants. With these new rules for domestic partners in Washington, Nevada and California, there will be additional complications that will require an accountant's expertise to prepare the filings. I always recommend having a professional do even simple returns, but for couples on tight budgets, these rules may have the most immediate effect of increasing the cost of filing their tax returns.
6. The Administration may be trying to treat gay couples as equally as possible. Admittedly, I have been unable to find any public statements or published justifications or explanations from the IRS, Treasury or the Administration, generally, about this rule change. It may be that the IRS is hamstrung by DOMA, which prevents gay couples from being recognized as married for the purposes of federal law (in this case, federal taxes), and this rule change is a way to recognize the existence of gay couples within the tight boundaries of DOMA. At a minimum, these rules accept that gay couples are filing their taxes and by requiring income splitting in community property states, this rule recognizes that these gay couples are unions subject to a rule that has always applied to married couples.
7. This highlights the striking discrimination caused by DOMA. But, married couples can avoid many of the problems of community property rules in their states by filing their federal taxes jointly. The regime created by this rule is a separate regime that while may possibly offer some tangible benefits (then again, it may not) and may recognize the union of gay couples, it still treats gay men and women different from similarly situated heterosexual couples. In no way can this rule be said to confer a special benefit on gay couples that is not enjoyed by straight married folks. In many ways, it will impose special burdens. In the long run, as DOMA litigation continues, this rule may highlight the problem — there is no rational basis for treating recognized gay unions worse than recognized straight unions.
What do you think about this rule change? I am particularly interested in how gay couples in Washington, Nevada and California are dealing with these changes and if you have seen if any of my perceived consequences are likely, accurate or off base. How will the rule change affect you? For those who have already filed, how has it affected you?