Gays in Botswana are taking the government to court over sodomy laws: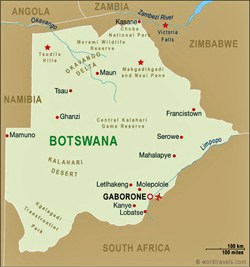 Members of the gay community are taking the Botswana government to court to challenge the Constitutionality of anti sodomy laws especially section164 of the Penal Code, which criminalizes same sex relationships, APA learnt on Wednesday in Gaborone.
They also want the provisions to be declared unconstitutional.
In his affidavit that was availed to the press, the representative of members of an unregistered association- Lesbians, Gays and Bisexuals of Botswana (LEGABIBO)- Caine Youngman states that the provisions of Section 164 render the right to privacy of no real value, to the extent that they enable the state to regulate sexual activity that take place between consenting adults, in ones home or private space, which does not bring about any harm to anyone.
I do submit therefore that by criminalizing my right as a responsible and law abiding citizen to have sex with other consenting adults in the manner that satisfies my sexual orientation, the Penal Code offends against and impairs my and other gay people the expression of human self and thus violates our right to live with dignity.
You may have missed…
Miss Botswana Gets Same-Sex Marriage Question at Pageant [tr]