The Washington Blade's Chris Johnson reports that Target has "changed its political giving policy because the company realized there was an opportunity 'to evolve' its practices" following the last election cycle. You may recall the outrage from the LGBT community after it was revealed that Target had donated $150,000 to MN Forward, a PAC supporting anti-gay candidate Tom Emmer.
The Blade: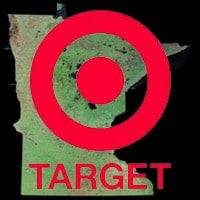 Jessica Carlson, spokesperson for Target, said the change was enacted within the last month after the company's corporate responsibility committee and board of directors conducted a review of policies regarding public policy engagement.
Among the new changes, which have been posted on Target's web site, are establishing a policy committee made up of senior executives to guide decision-making for financial support of political activities.
"The policy committee and our CEO are responsible for balancing our business interests with any other considerations that may be important to our team members, our guests or other stakeholders," Carlson said.
Carlson added the new policy committee will determine whether Target will make political contributions directly to candidates, political parties or to other groups such as 527 or 501(c)(4) committees.
Carlson declined to give information on who was consulted regarding the changes:
One source familiar with the changes, who spoke on condition of anonymity, confirmed that Target consulted with some LGBT rights advocates on the change.
Carlson added Target has "a long history" of supporting the LGBT community through political giving, volunteerism and event sponsorship.
For example, Carlson said the retail chain donated to Project 515, a Minnesota LGBT group, and this year saw many team members volunteer at Creating Change, an LGBT rights conference hosted by the National Gay & Lesbian Task Force.