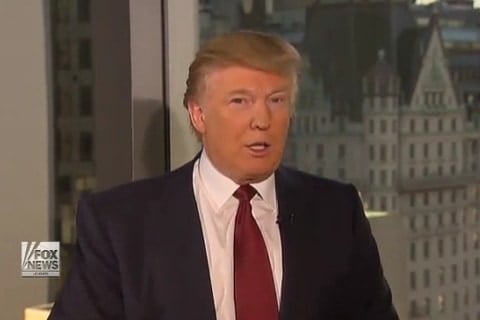 Donald Trump told Greta van Susteren that he's not in favor of gay marriage, but didn't offer any reasons for his position. Oh, but he loves the fact that New York City is a place with a lot of gays.
VAN SUSTEREN: Gay marriage?
TRUMP: I'm not in favor of gay marriage.
VAN SUSTEREN: You sort of hesitate when you say that. Any doubt?
TRUMP: No, I'm just not in favor of gay marriage. I live in New York. New York is a place with lots of gays, and I think it is great. But I'm not in favor of gay marriage.
Trump recently appeared at CPAC where Christopher Barron, chair of gay conservative group GOProud, said he "would love to see Trump run for President." Said Barron: "He's not only a well respected businessman, and somebody who obviously has a giant megaphone, and having him involved in this event and talking about those issues – issues that are not only important to GOProud but important to conservatives all across this country — is critical."
Trump has been married three times.
Watch, AFTER THE JUMP…
Previously…
GOProud Leads 'Trump in 2012' Movement at CPAC [tr]
(If the clip does not work, you can watch it on YouTube here (begins at about 8:00)).