The Archbishop of Canterbury Rowan Williams has taken a stand on recent announcements from the British government that it is lifting the prohibition of civil partnership ceremonies in places of worship.
The Daily Mail: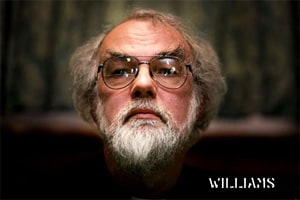 His intervention comes as the Coalition consults on plans to allow civil partnerships between gays and lesbians to take place in religious settings for the first time.
No church, mosque or synagogue will be forced to host the ceremonies – but some religious people are worried they could be open to discrimination suits if they do not open their doors to gay unions.
Some within the CofE have been calling on the Archbishop to move with the times and allow his churches to host gay weddings – pointing out that polls have shown that some two thirds of the British public would be in support.
But now Dr Williams, who was seen as a liberal when he took up his post, has indicated that on this issue he will ally himself with conservatives in the Church.