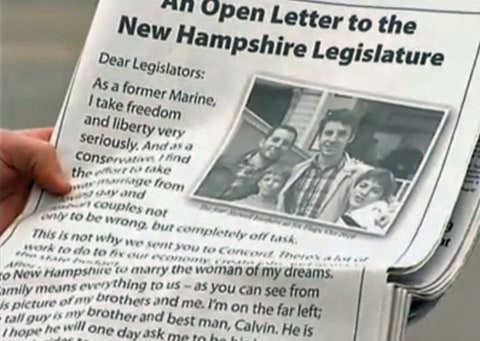 A New Hampshire Marine veteran is speaking out for marriage equality in New Hampshire in a full page ad in the state's Union Leader newspaper:
"Craig Stowell says his 22-year-old brother Calvin is gay, and after he heard about two hearings to repeal gay marriage in New Hampshire on Thursday, he had to speak out. The ad begins, 'As a former Marine. I take freedom very seriously…' Stowell says, 'When I came back from Iraq, I married the woman of my dreams in my grandparents' back yard…. Calvin was my best man and I just hope one day I get to be his.'"
Watch WBZ-TV's report on Stowell, AFTER THE JUMP…
Today, New Hampshire's House Judiciary Committee is holding hearings in Concord on a bill that would repeal the state's marriage equality law. Huge crowds are expected.