Murray Richmond, who was a Presbyterian minister for 17 years and a hospital chaplain for three years and is currently a legislative aide in the Alaska State Senate, pens a column in Salon about how he changed his mind about preaching against homosexuality: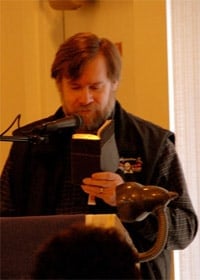 With distance, I could see the mean-spirited nature of the anti-gay movement, and the naked way large Christian organizations used the "gay threat" to raise money. Free from the constraints of a congregation, I could spend more time actually looking at the biblical texts that deal with homosexuality, and I was surprised to find they were not as clear as I had supposed they were. At this point, I have done a 180 on the topic. And I believe it's a change for the good.
So why had we singled out homosexuality as a litmus test for True Christianity in the first place? Why had it become such a lightning rod for self-righteousness?
One reason, I think, is that it's easy to condemn homosexuality if you are not gay. It is much harder than condemning pride, or lust or greed, things that most practicing Christians have struggled with. It is all too easy to make homosexuality about "those people," and not me. If I were to judge someone for their inflated sense of pride, or their tendency to worship various cultural idols, I would feel some personal stake, some cringe of self-judgment. Not so with homosexuality.
Now I am wondering why, if two gay people want to commit their lives to one another, they should ever be denied that chance.
I preached against homosexuality, but I was wrong [salon]
(image source)