The Maryland House is scheduled to debate the marriage equality bill today at 10 am.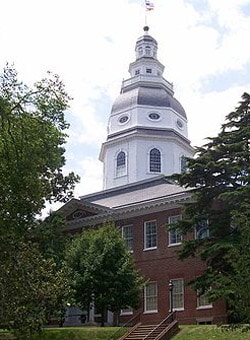 The AP reports: "House Speaker Michael Busch, D-Anne Arundel, has warned lawmakers that if they change the bill which was already approved by the Senate, it will die. Senate leaders have said they do not have the time or support to approve any changes to the gay marriage bill they passed two weeks ago. House supporters say they are a few votes shy of the 71 they need to send it to Gov. Martin O'Malley. The governor has said he would sign the bill if it reaches his desk."
Yesterday, six openly gay Maryland lawmakers asked their colleagues to vote for equality in a letter. You can read it HERE.
The Baltimore Sun reports on the bill's chances:
Delegates have heard from hundreds of constituents, received a flood of e-mails from supporters and opponents and, in some cases, struggled internally with how to vote. Several of them — including co-sponsors — have changed their positions. Dozens remain publicly uncommitted.
"The vote is close, probably an even split," said Del. Maggie McIntosh, the most senior of the six openly gay delegates. "A healthy handful of people are still making up their minds."
The Baltimore Democrat said that most of those delegates have told her they support same-sex marriage personally, but believe their constituents largely oppose it.
Because neither supporters nor opponents are confident in how the 141-member House will vote after what could be several days of debate, both sides have been laboring to convince the holdouts.
There's still time for last minute lobbying of your lawmakers. Equality Maryland provides an easy way to email your delegate. Call: 1-800-492-7122. Click here to find out who your delegate is.