House Speaker John Boehner is holding a meeting tomorrow with leadership to decide on what to do about the President's decision to abandon defense of Section 3 of the Defense of Marriage Act (DOMA) in court, Roll Call reports.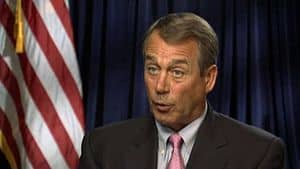 Boehner announced on Friday that he had former a bipartisan group to review the issue:
Boehner had promised the House would act to defend DOMA, and on Friday he said he had convened the Bipartisan Legal Advisory Group, a five-member panel provided for under House rules, to consider instructing the House's Office of the General Counsel to defend DOMA in court. 
The Bipartisan Legal Advisory Group is a panel consisting of the Speaker, House Majority Leader Eric Cantor (R-Va.), Majority Whip Kevin McCarthy (R-Calif.), Minority Leader Nancy Pelosi (D-Calif.) and Minority Whip Steny Hoyer (D-Md.). Because Republicans enjoy a 3-2 majority on the panel, they could vote to instruct the nonpartisan counsel's office to take legal action in behalf of DOMA. 
Boehner has suggested in interviews with the Christian Broadcast Network and Greta van Susteren that the House plans to take action in defense of DOMA, but has not elaborate on what methods it would take.
In a new article, Equality Matters looks at the Right's reaction to the President's decision:
As lawsuits over DOMA continue to make their way through federal court and House Republicans defend the law with the same flawed arguments that have been struck down before, anti-gay activists like Gallagher, Perkins and Brown they will have to find new ways to explain why their attempts to defend this discriminatory law are failing (and failing miserably).
And HRC Backstory has seven questions that Boehner may want to bring to the meeting tomorrow, including whether the House GOP plans to intervene in all of the DOMA lawsuits currently pending, how much money the defense of DOMA will cost, and what Republicans will possibly argue in the discriminatory law's defense.