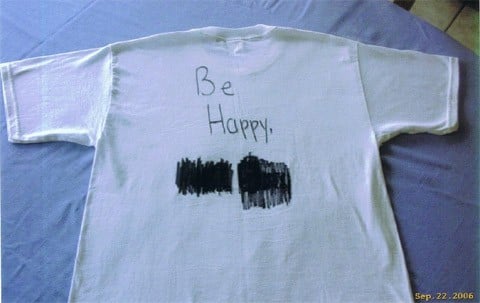 In a case that has been ongoing since 2006, the 7th Circuit Court of Appeals ruled yesterday that a student at Neuqua Valley High School in Naperville, Illinois had the right to wear a shirt that said "Be Happy Not Gay".
The court had rejected Indian Prairie School District 204's argument that school officials could prohibit students from wearing the shirts to prevent some students from having their feelings hurt.
In its opinion, the court said a "school that permits advocacy of the rights of homosexual students cannot be allowed to stifle criticism of homosexuality."
"The school argued (and still argues) that banning 'Be Happy, Not Gay' was just a matter of protecting the 'rights' of the students against whom derogatory comments are directed," the court said. "But people in our society do not have a legal right to prevent criticism of their beliefs or even their way of life."
Heidi Zamecnik, a student at the time, wore the shirt in response to GLSEN's "Day of Silence" in which students take a vow of silence against bullying and in support of other LGBT students.
Regarding the condition of the shirt above:
The school's dean demanded she remove it or be sent home for the day. After speaking with Zamecnik's mother by phone, all agreed to change the shirt to read, "Be Happy, Be Straight." However, the dean instead had a female counselor cross the words "Not Gay" off Zamecnik's shirt so it simply read "Be Happy."
The appeals court ruling overturns two previous rulings by lower courts.