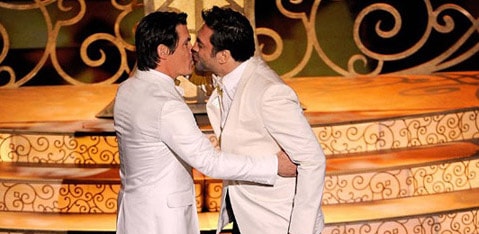 Academy Award telecast co-producer Bruce Cohen, who is gay, explains ABC's cut-away from the kiss and dance between Javier Bardem and Josh Brolin to AfterElton:
"It [the dance and the kiss] was unscripted, and the plan in the truck was always to cut to Penelope in the audience applauding Josh's and Javier's introduction, so that is what happened, just as they were starting to dance. Josh and Javier's moment (I saw them start to dance, but, to be honest, I have no idea if they kissed — that's the first I've heard of that) would have made a great TV moment, but since no one knew it was coming, we cut to the gorgeous Mz. Cruz as planned. By the time we cut back from her close-up, James and Javier were walking to the podium."
I know Bruce, and he's a good guy, but I'm not sure I buy his explanation.
Previously…
Did Oscar Producers Get 'Gay Panic' When Josh Brolin and Javier Bardem Kissed During the Telecast? [tr]