Faith2Action wingnut Janet Porter called a fetus to testify before the Ohio House today in support of n anti-choice 'Heartbeat Bill'. Porter's stunt was a bust, Right Wing Watch reports.
Dayton Daily News: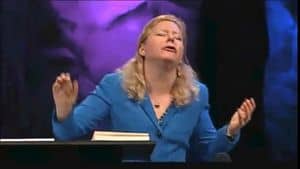 State lawmakers in Ohio have seen ultrasound images of two fetuses as proponents of what would be the most stringent abortion law in the nation pushed their proposal.
The bill would ban abortions after the first heartbeat can be medically detected.
Two young mothers were given ultrasounds in a packed room at the Statehouse as part of a House committee meeting Wednesday. The heartbeat of a fetus at 15 weeks gestation was easily detected. The heartbeat in a fetus of nine weeks gestation was difficult to detect.