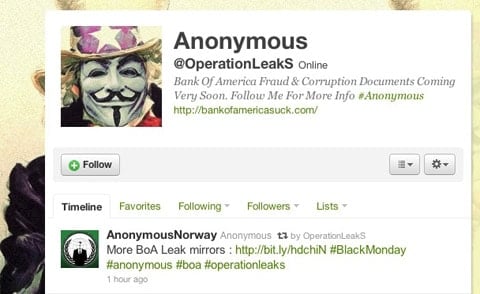 Hacker group Anonymous, has unleashed a set of tweets with links that reportedly contain information detailing fraud at B of A. It was rumored earlier this year that BofA was a subject of forthcoming information from Julian Assange's site Wikileaks. No word on if the operations are related.
Forbes Parmy Olson writes:
Anonymous, the global hacktivist collective, has this morning released e-mails that it says expose fraud at Bank of America. The emails are between the user of Twitter account @OperationLeakS and an anonymous former employee of Balboa Insurance, which used to be a subsidiary of Bank of America, discussing improper mortgage processes at the bank. Forbes writer Halah Touryalai posts some of the email conversation here, but links within the original site appear not to be working. It's "tough to tell if there's anything truly damning in the e-mails," writes Touryalai.
The Anonymous Twitter site is HERE.