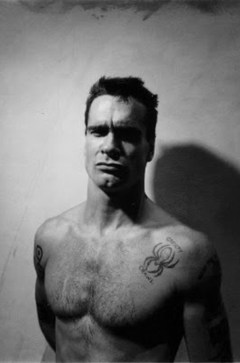 Former Black Flag frontman turned actor Henry Rollins has consistently used his influence and position to push progressive politics, particularly when it comes to LGBT rights.
You can be sure, then, that he's pretty pissed about House Speaker John Boehner's decision to defend DOMA in Congress.
And Rollins is venting that anger over at Vanity Fair: 
[Obama] says his administration will no longer defend DOMA in court. Being happy about that would be like rejoicing that doctors are no longer applying leeches to patient's faces when they complain of nasal congestion. It's not a bad thing, though, and about damn time.

In to save the day, to keep those damn gays in their place, is House Speaker John Boehner, who will put himself and his sterling reputation on the line to stand against the president, his insurgent gay terrorist pals, and their dreams of marriage and equal protection under the law. That's a relief.

When things threaten to become too constitutional, thankfully, there's someone like John Boehner, owner of every third tear cried in America, to step in and attempt to push America back into the good old days of darkness. Rather than shoulder the awesome burden of creating some damned jobs in America, he goes for the easy cheap shot of going after gay Americans. Again.
Rollins concludes by reminded Boehner that all Americans, even the gays, have a right to life, liberty and the pursuit of happiness.
He also points out, quite rightly, that Boehner needs to focus on more pressing problems, like the economy: "Damn, congressman, we're trying to get up the road here. Either lay out a plan for job creation for all of us to see or get out of the way."