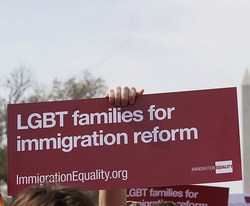 LGBT group Immigration Equality will soon make history by filing the first DOMA lawsuit for binational couples.
"There's no doubt that the administration's new stance on DOMA has created a new window of opportunity to advocate on behalf of our families within the court system," said Steve Ralls, spokesman for Immigration Equality. "We believe we have a good shot at winning and securing immigration rights for, at the very least, couples who are legally married in states where those marriages are valid."
Though Ralls and company have yet to select their brave plaintiffs, they're currently interviewing couples and hope to have everything set within the next few weeks, providing what Ralls calls "a real opportunity to bring a successful challenge in federal court and win a victory for couples who are struggling to remain together under current immigration laws."
Hopefully the forthcoming suit will expand people's understanding of just how painful and omnipresent marriage prohibitions can be, because I bet the majority of Americans don't even realize how binational couples are impacted by discriminatory laws. And, if you ask me, bringing immigration and LGBT activists into the same arena can only bring progress for everyone involved.