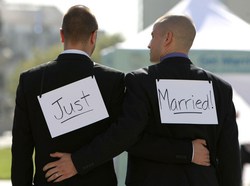 Here is some great news to start the day: the latest Pew Poll on marriage equality shows that the nation's almost evenly split on whether gays and lesbians should be able to tie the knot.
According to the poll, a slim 46% plurality of Americans say gay marriage should not be legal. However, 45% said it should be legal, and with a 3% margin of error in the poll, that places the results into a statistical tie.
These numbers suggest the most robust support for same-sex marriage yet, and indicate a rapid shift toward equality for Americans. Back in 2009, only 37% of voters gave the thumbs up to gay nuptials, with 54% opposed.
As the numbers converge, they begin to look more and more like a piece of the male anatomy, and spell doom for politicians who continue to thump social issues.
Check it out, AFTER THE JUMP…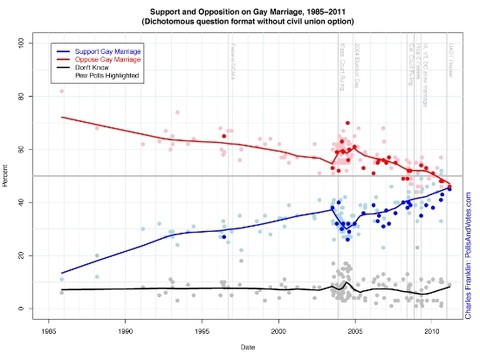 This image, from Charles Franklin, reflects the simple question "do you believe gay marriage should be legal?" And, yes, the nation's saluting equality.
You can bet that the diehard conservatives will somehow twist this image into evidence of a gay agenda of some sort. Luckily, their numbers are slipping and someday soon the majority of the nation will finally realize anti-gay activists are total and complete bigots.
Imagine: a world where the very idea of withholding gay marriage will be unthinkable, and politicians who work against it will be voted out of office. Blissful!