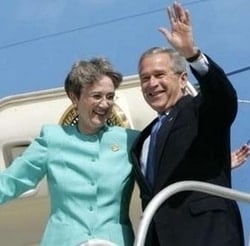 The Democratic Senatorial Campaign Committee today released an ad attacking former U.S. Rep. Heather Wilson, a socially conservative Republican who may run for Jeff Bingaman's senate seat once he retires.
The ad, called "At It Again," highlights New Mexico-based Wilson's past encounters with entrenched GOP leaders, especially President George W. Bush, a man whose image proved to be a deterrent for some voters during and immediately following his White House career.
But I wonder whether the specter of Bush will still be effective come 2012.
By now most people know that Bush was not the mastermind behind his administration's most controversial decisions, but was instead a figurehead, or a puppet, for people working behind the scenes.
While Dubya should take responsibility for his past actions, he also didn't instigate them, and his culpability exists in relation to those who pulled the strings.
That said, will the "palling around with Bush" angle still derail potential Republican campaigns? Wouldn't it be more compelling and effectual to show GOP candidates hanging out with the likes of Karl Rove, Donald Rumsfeld or Dick Cheney?
Watch the DSCC's video, AFTER THE JUMP…