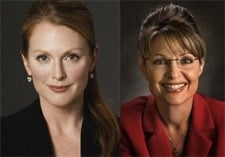 Julianne Morre has been cast as Sarah Palin in the HBO film adaptation of Mark Halperin and John Heilemann's book Game Change, about the 2008 presidential elections, Deadline reports:
"Directing Game Change is  Jay Roach, director of the Meet the Parents movies as well as the HBO film Recount, which examined the aftermath of the 2000 presidential election with a focus on the Florida recount…Danny Strong, who previously wrote the Roach-directed Recount, penned the script for Game Change. Roach is executive producing, with Strong co-executive producing. So far, Palin has been most famously portrayed on TV by Tina Fey on Saturday Night Live."
This should be entertaining. The book savages Palin.