Maryland House Del. Sam Arora (D-Montgomery County), who raised much money from the LGBT community and is a co-sponsor of the marriage equality legislation pending in the house, is reportedly now planning to vote "no", a key vote that would make the difference in advancing the bill out of committee to the full House.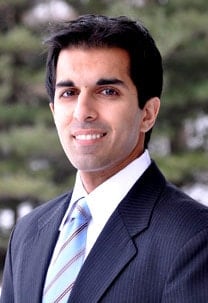 He told the lead sponsor of the bill today that he was planning to vote against it. With no explanation. Arora has been silent.
Del. Kumar Barve (D-Montgomery County), says that Arora's decision to vote against the bill is "a shock."
"I don't know what to think," Barve tells Metro Weekly this evening of Arora's decision to vote against the marriage bill that he once co-sponsored, once it makes its way to the House floor, something Barve says Arora told him personally.
"He told me that he was going to vote against it on the floor," Barve says. "I've been in the legislature for quite a while and nothing is a reality until you actually push the button. And these are hard issues. But he came to me and told me that he was having difficulty with the concept of it."
He even deleted a Twitter post from a month ago supporting marriage equality. Folks are perplexed.
And infuriated. Americablog posted a list of all the donors to Arora's campaign:
"He did post on his Facebook page recently that he's 'thinking and praying' about what to do. He'd better pray. Because scores of progressives, and gay progressives, in Washington, DC donated to his campaign. And now he's suddenly not sure if he plans to keep his campaign promises?"
MetroWeekly adds:
Others, like Chevy Chase Mayor David Lublin, are not so kind. Lublin says that if Arora does vote against the marriage legislation on the House floor, his next move should be to resign.
"If he honestly feels like he cannot vote for this on the floor, the only honorable course of action will be for him to resign because he campaigned so strongly on the issue to so many different people."
Here's Arora's contact info:
Twitter: @Sam_Arora
FACEBOOK: http://www.facebook.com/pages/Sam-Arora/334183772314
(410) 841-3528, (301) 858-3528
1-800-492-7122, ext. 3528 (toll free)
e-mail: sam.arora@house.state.md.us
fax: (410) 841-3011, (410) 841-3528, (301) 858-3528, (240) 245-0018
UPDATE: Del. Tiffany Alston, who committed to a "yes" vote the other day, is reportedly now also showing weakness. 
Phone: (410) 841-3692, (301) 858-3692
1-800-492-7122, ext. 3692 (toll free)
E-mail: tiffany.alston@house.state.md.us
Fax: (410) 841-3442, (301) 858-3442