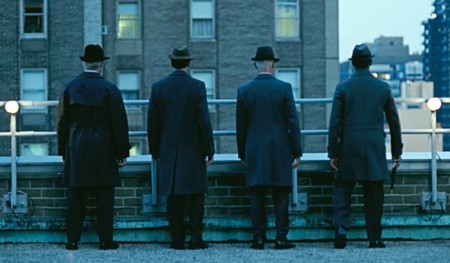 They monitor the entire world. They know if you've been naughty or nice.

NATHANIEL ROGERS
…would live in the movie theater but for the poor internet reception. He blogs daily at the Film Experience. Follow him on Twitter @nathanielr.
 
 NOW PLAYING
In THE ADJUSTMENT BUREAU politician Matt Damon and ballerina Emily Blunt aren't supposed to be together so a shady omnipotent Big Brother type organization steps in to make sure they get back on their predestined tracks. Stories about fate and predermination are always hilariously at war with themselves. The villains here are making sure your fate happens and yet the hook for the audience is to root for these lovers who are meant to be together. If you're meant to be together isn't that fate? Make up your mind, story. The Adjustment Bureau has the distinction of being one in a long series of movies made from the work of sci-fi giant Philip K Dick whose novel "Do Androids Dream of Electric Sheep?" famously became the classic Blade Runner (1982) so many moons ago. It seems like everything he ever wrote will one day hit the screen.
Also Opening: BEASTLY starring Alex Pettyfer (briefly discussed last week); TAKE ME HOME TONIGHT an 80s spoof with Topher Grace from That 70s Show (eventually he'll hit the 1990s); Josh Radnor of How I Met Your Mother wrote, directed and stars in the sitcomy movie  HAPPYTHANKYOUMOREPLEASE; 2010's Cannes Palme D'Or winner UNCLE BOONMEE WHO CAN RECALL HIS PAST LIVES from the director of Tropical Malady is a must for art film lovers; Johnny Depp voices a lizard in the animated feature RANGO which some people are already tipping as a avorite for next year's animated Oscar. Yes, punditry for the following year starts the second the last envelope is opened on Oscar night. It never ever ends.
BONUS SCENES

Speaking of which…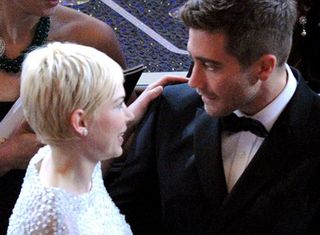 Did you catch the virtual Brokeback Mountain reunion at the Oscars? AFTER THE JUMP…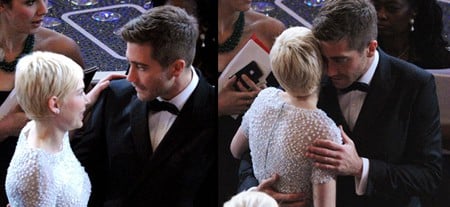 It's always great to see Jake Gyllenhaal, Michelle Williams and Anne Hathaway in the same room though we'll always be missing Heath Ledger when we do.

LOVE AND OTHER DRUGS was also having a reunion in the room. Hathaway even mentioned it in her opening monologue, bemoaning her lack of a nod.
It used to be that you got naked. You got a nomination. [comic sigh]  Not anymore.
Her joke was well timed since that naked romp with Jakey is just out on DVD. You can now freeze frame to your Gyllenhaalic's heart's delight. But they're naked so often freeze framing is truly overkill. Judging from the reviews of James Franco's co-hosting, maybe Jake should've lept on stage to rescue Anne… with or without his tux.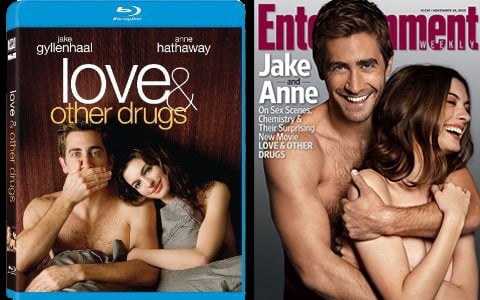 OSCAR NIGHT

For today's column I had intended to write up a little "Gayest Things About the Oscars" countdown but it was not a gay ol' time. Even the sight of Franco in Marilyn Monroe drag felt more like a frat boy prank than his more familiar pansexual flirtiations.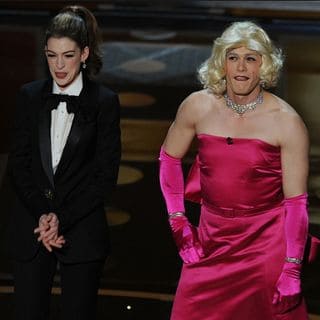 Oh sure Hathaway reminded us again (if indirectly) that she'd really like to play Judy Garland in yet another biopic. We got a flat lesbian joke courtesy of the nominations for Black Swan and The Kids Are All Right ("Toy Story 3… Where's the dad?") and there were heartwarming shout-outs to same sex spouses, this time from one of The King's Speech producers and the three Inception Sound Mixers (two men and a woman) who thanked their three wives. But The Kids Are All Right went home emptyhanded (damnit!), they cut away from the Javier Bardem / Josh Brolin kiss (which continues to cause angry fallout),  Hugh Jackman didn't sing. Even the Best Director winner Tom Hooper's  "triangle of man love" statement wasn't the least bit gay… unless your mind jumped to that story about The King's Speech sets.
The gayest thing I personally saw all night was Hugh Jackman discussing his diet on the red carpet.
"Protein me up. Whatever I can get… I'm on the Ryan Seacrest Diet."
I remain shocked that #HughJackmanProteinDiet didn't trend on twitter.
The No Fabulousness policy of Oscar 83 was best exemplified by the Original Song category. We got bored whiny Randy Newman who actually sounded miffed that he only had two Oscars (greedy much?) when we could've had Cher reminding us in song that we'll never see the last of her?! A little Cher could've seriously saved the night.  I was tweeting and liveblogging (which I don't recommend. You do miss a lot of details) so I may have missed some delicious fruit flavor somewhere.
What was your favorite moment from the 83rd Oscars?