The Maryland House of Delegates is done debating the marriage equality bill for the day, and a vote could come as soon as tomorrow, the Baltimore Sun reports: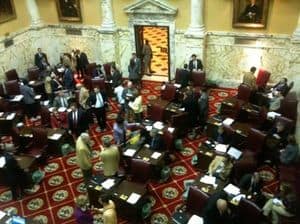 Delegates may continue to try to amend the bill tomorrow, but supporters fended off four changes in a morning debate session.
The closest vote came just before the debate ended. Del. Aisha Braveboy, a Prince George's County Democrat who does not support gay marriage, suggested taking the issue directly to voters. A preliminary tally showed that amendment failed by a vote of 63 to 72, but gay marriage opponents said they are likely to try for a similar amendment tomorrow.
Because the House is voting on a Senate plan, delegates are allowed to amend the bill when it is up for final passage — something they cannot do on House bills.
The other attempted amendments included an option for parents and teachers who disapprove of homosexuality to opt out of school curriculums on the topic, a change in title from Civil Marriage Protection Act to Same-Sex Marriage Act, and a measure to protect church groups and others who provide adoption services and foster care if they are against same-sex marriage.