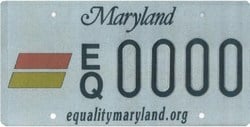 After some ups and downs this week, Maryland's House Judiciary Committee today voted 12-10 to move that state's marriage equality bill to a full vote.
Even if it passes, though, the bill's far from a done deal, Yusef Najafi reports for MetroWeekly:
Opponents have threatened to take the issue [of] marriage legislation to the ballot box. According to Maryland's State Board of Elections, opponents of the marriage bill can start collecting signatures for a statewide referendum immediately after the passage of the bill in the House of Delegates, before Gov. Martin O'Malley (D) signs the bill.

A total of 55,736 signatures are required on the petition and must be submitted to Secretary of State John P. McDonough (D) by June 30. One third of those signatures are due on May 31.
Remarking on the vote, Del. Kumar Barve, the House Majority leader, said, "To me, this legislation is all about family, liberty and respect," while Morgan Meneses-Sheets, executive director for Equality Maryland, had this to say: "Marriage provides a critical safety net for families. With this favorable vote from the committee on SB 116, we're one step closer to providing not only the same benefits, but also the respect and dignity to the thousands of gay and lesbian couples in Maryland."
A recent poll put out by Equality Maryland suggest that 49% of voters favor equality, while 41% oppose. Those numbers seem promising, but we all know anti-gay activists can be very effective in rallying their troops, so supporters should stay vigilant.