Newt Gingrich arranged for hundreds of thousands of dollars for the successful campaign to oust three iowa Supreme Court judges last year for their marriage equality vote, the L.A. Times reports, in an article about Gingrich's ties to Evangelicals.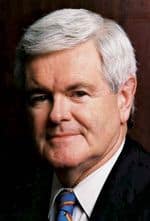 The Wonk Room's Igor Volsky takes note:
Gingrich has also provided financial and strategic support for their causes. Last fall, he played a key behind-the-scenes role in an unprecedented — and successful — campaign to remove three Iowa Supreme Court judges who approved same-sex marriage in the state, helping secure $200,000 in seed money for the effort. […]
"It wouldn't have happened without Newt," said David Lane, executive director of Iowa for Freedom, the organization that led the campaign. "Newt provided strategic advice and arranged the initial seed money, about $200,000, which is what got everything started."
The money came from an anonymous donor whose contribution was arranged by Gingrich, Lane said. Robert L. Vander Plaats, chief spokesman for the judicial campaign, said the former speaker provided key strategic advice.
Volsky adds that though Gingrich's verbal endorsement has been publicly reported, his monetary contributions have not.