The New Hampshire House Judiciary Committee has voted unanimously to shelve two bills that would repeal the state's marriage equality law: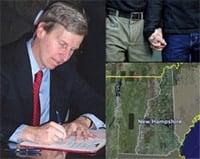 The 15-0 vote of the House Judiciary Committee effectively means two bills repealing the 2009 law won't return to the full House of Representatives until early next year. There was no debate in committee about the move.
House Majority Leader D. J. Bettencourt, R-Salem, had decided that this divisive issue would distract from GOP priorities to adopt a balanced budget, change the education funding constitutional amendment and alter pension programs.
The committee decided to retain the bills (HB 343 and HB 437), which keeps them in its custody until early in 2012 without a further vote of the Legislature.
The panel unanimously recommended killing a third bill (HB 569) that would have replaced marriage with domestic unions for all adult partners, be they heterosexual or homosexual couples.