City Room reports that New York Governor Andrew Cuomo has invited approximately a dozen LGBT activists to a strategy session in Albany tomorrow in an effort to gather information and facilitate passage of a marriage equality bill this year: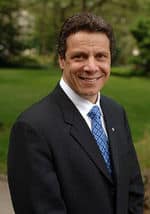 On Wednesday, during the strategy session, the governor will meet with Christine C. Quinn, the speaker of the City Council, who is openly gay; Brian Ellner, who is pushing for same-sex marriage in New York for the Human Rights Campaign, a national advocacy group; Ross D. Levi, the head of the state's leading gay rights organization, the Empire State Pride Agenda; and Richard Socarides, a former Clinton administration official and president of Equality Matters, a new advocacy group. Lawmakers who have sponsored the marriage legislation in the past, like Assemblyman Daniel O'Donnell and Senator Tom Duane, are expected to attend as well, according to those told of the meeting.
Much of the focus will be spent this year on winning over at least six senators, the paper reports:
As part of this effort, Mr. Cuomo and his aides are working on assembling an effective coalition of gay activists who, despite a shared agenda, have not always coordinated well together.
Even so, Mr. Cuomo may introduce a bill to make same-sex marriage legal in New York by June, people familiar with his thinking said. The Republican Senate leader, Dean G. Skelos of Long Island, has said he will allow a vote; whether a Republican will support it remains an open question.
Marriage Equality New York, a grassroots group which has been working on legalizing same-sex marriage in the Empire State for more than 12 years, was not invited, according to Gay City News:
"There they go again forgetting the grassroots, which they will need," said Cathy Marino-Thomas, communications director for Marriage Equality New York (MENY), a grassroots group that has been working on the issue for a dozen years.
Asked whether that comment was on the record, she responded, "They didn't invite me to their meeting, yes it's on the record. We're all supposed to be working together, I thought."