Perez Hilton is publishing a children's book, USA Today reports: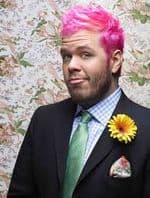 Hilton is penning a children's book titled The Boy With Pink Hair, celebrating individuality and self-acceptance. "This story is about every kid that's ever had a dream, felt excluded, wanted to belong, and hoped that one day they could do what they loved and make a difference," says Hilton in a release.
It will be published by Celebra Children's Books, in partnership with Penguin Young Readers Group in September 2001. First printing: 75,000 copies.
"The Boy With Pink Hair" is the story of a child born with a shock of fabulous hair that sets him apart from his peers. While some find this difference hard to accept or understand, "The Boy With Pink Hair" uses the opportunity to find what makes him special and share it with the world. The children's book is illustrated with vibrant retro-feeling art by first-time illustrator Jen Hill, putting into pictures the fun that comes with embracing individuality.