The AP reports on excerpts from Benedict's forthcoming book: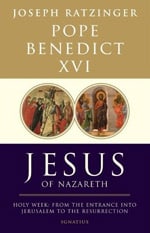 In "Jesus of Nazareth" excerpts released Wednesday, Benedict uses a biblical and theological analysis to explain why it is not true that the Jewish people as a whole were responsible for Jesus' death.
Interpretations to the contrary have been used for centuries to justify the persecution of Jews.
While the Vatican has for five decades taught that Jews weren't collectively responsible, Jewish scholars said Wednesday the argument laid out by the German-born pontiff, who has had his share of mishaps with Jews, was significant and would help fight anti-Semitism today.