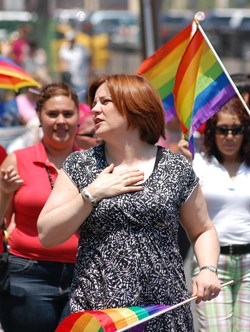 NYC Council Speaker Christine Quinn and other Big Apple lawmakers announced that they will no longer walk in the Staten Island St. Patrick's Day parade after organizers refused to let people show their gay pride at yesterday's event.
Though LGBT activists were initially allowed walk along, they were told they could only do so if they kept all signs of gay pride out of sight. Activists refused, and parade organizers then did their best to toss them.
"They tried to take us out," explained Dominick DeRubbio, who tried to march with other members of the local Young Democrats chapter.
Another participant, St. Jermaine Endeley, who was wearing a rainbow emblem, says a parade organizer tried to censor his garb: "He grabbed my jacket and tried to rip the [rainbow] ribbon off of me. It's not fair. This is America. I can wear what I want."
Quinn, an Irish-American lesbian, insisted she and many of her colleagues, including NYC Comptroller John Liu, Public Advocate Bill de Blasio, and Manhattan borough president Scott Stringer, won't return to the parade until organizers open their ranks.
She also remarked that she's bewildered by the continued discrimination: "Don't Ask Don't Tell has been repealed. The military is no longer discriminating against LGBT people but yet parades in New York City are. It baffles the mind."
Mayor Mike Bloomberg has not joined the boycott, a move Stringer criticized. "I think the mayor had a wonderful opportunity to be here with us and not march, and that would have sent the clearest message," he declared. "As influential as we are, the mayor does set the tone for this city. He would have moved this debate forward to recognize that."